How it all started.
Surma Creative was founded by Lukasz Surma back in the day when he was still in school.

I've created a simple website named Surma GFX to provide graphic design services over the internet. I've quickly realized that most of my artworks were used mostly for digital purposes - on my customers' websites.

Two years later I've introduced web design services, built on a simple content management system. The studio has been moved to Chelmsford, United Kingdom and renamed to Surma Design. We created hundreds of designs and kept getting inquiries from customers who asked if we can recommend a reliable printing company where they can print their new artworks.

The high demand for printing service left us no choice but expanding the range of our services and in 2017 we've introduced new online printing services and entirely rebranded one last time. Our new offer introduced new printed products such as business cards, flyers and leaflets, brochures, stationery but also lanyards and other promotional products.

Today Surma Creative provides online graphic, web design and printing services to every type and size of business and private customers across the United Kingdom. Our mission is not only providing reliable design and print service but also being a partner in growth for every entrepreneur and business owner. We believe, that design is not just a job - it's a mission of creating new possibilities for everyone looking for a way to improve their business and achieve new goals.
We believe, that every message created with accuracy, clarity, and brevity, embrace boldness, build trust, become more credible, and persuade the audience to take action. All this makes simplicity a precondition for reliability.
Don't be afraid to think big.
Even if you are a small, family-run business, or freelance designer never be afraid to think about going big. No matter how slow you progress, as long as you put the effort into self-improvement and look for new opportunities, you are still way ahead of everyone who isn't trying.
Success comes with a commitment
Commitment to what you do is not only essential, yet it's the key to success. When you are dedicated to your work, particular projects or, most importantly, your customer, you are on the right track to provide exceptional service and deliver the right solutions.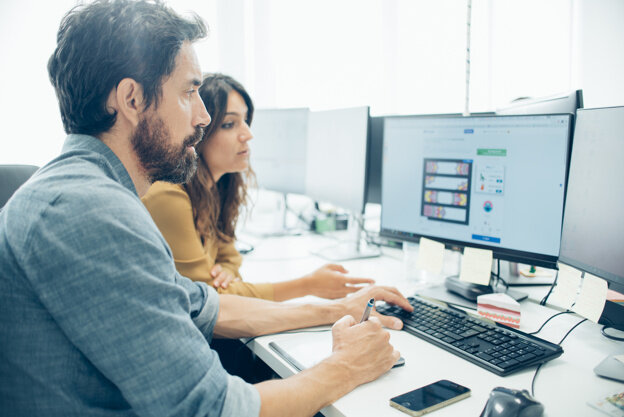 Innovation leads to growth.
Innovative solutions lead to higher productivity, meaning that the same input generates much greater output. Surma Creative always aims to provide all customers with the latest technological and innovative solutions that will benefit their business.
Quality is always the result of effort and strategy.
Strategy without effort, will not make your project moving forward. Effort without a strategy may not take your initial ideas in the right direction. Only combined together always brings quality results that will make you remembered as more reliable than ever.